Intwine offers the only fully managed, end-to-end failover solution including hardware, software, and services.
The Intwine difference means no long term contracts, no hidden fees, and no hassle of multiple vendors. It just works.
Intwine's LTE Failover solution includes:
Intwine 4G LTE Router
Remote Management Portal Account
Cellular activation configuration and provisioning
Onsite installation, and full life-cycle support 
Static IP and Verizon private network can be added at no additional cost.
The 4G LTE Router includes extendable antennas, SIM card, Ethernet cable, power supply, and mounting brackets. The Remote Management Portal gives you instant insight into network health and performance. This includes online/offline and data usage notifications, firmware updates, advanced installation and troubleshooting tools, and an enterprise call center. 
Failover and Out-of-Band-Management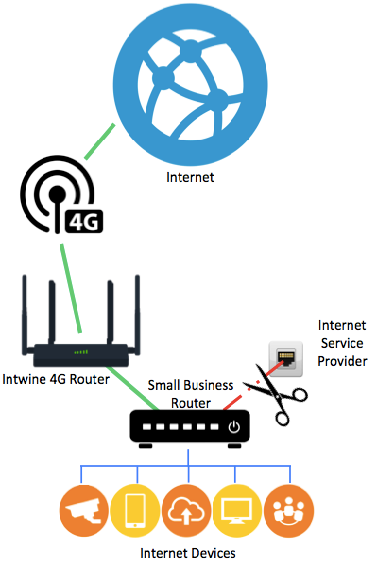 When the primary internet connection goes down Intwine gets to work making sure your business stays productive.